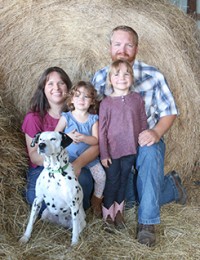 Dr. Shannon Melliere, a Valmeyer native, graduated from the University of Illinois College of Veterinary Medicine in 2009 and has been practicing as a mixed animal practitioner in the Monroe County area for 7 years. Dr. Shannon founded Riverstone Animal Hospital in the fall of 2015. After working as an associate veterinarian for many years, Dr. Shannon started Riverstone to fulfill her life-long dream of owning a veterinary clinic that embodies and reflects an exceptional health care experience both for the pet and their owners.
She believes that Riverstone delivers exceptional care on so many levels with its state of the art facility, progressive medicine, and above all caring and compassionate staff who always provide a "hometown" feel to every interaction. As a devoted mixed animal practitioner, Dr. Shannon enjoys treating and interacting with all species of animals. She is dedicated to providing high quality medicine and unmatched veterinary care to her patients.
Dr. Shannon and her husband, Mike, put a lot of time and effort into Riverstone, but they also have two girls, Mikayla and Caroline, who are their pride and joy. It is not unusual to see the whole family at the clinic or out on a farm call, but when they are not working they love spending time with their family, working with their cattle and horses, and helping out on the family farm.